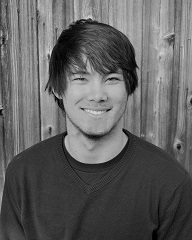 Love 218
Hometown- Santa Barbara, CA
About
Waiman Meinhold obtained a B.S. in Mechanical Engineering from the University of California Berkeley.In the past he has worked on assistive robotic systems and in Atomic Force Microscopy. His current research interests involve augmentation and rehabilitation of humans with mechanical systems. He is currently working on improving a mechanical system for neurological rehabilitation Outside of the lab, Waiman enjoys surfing and fishing.
Education
UC Berkeley, B.S in Mechanical Engineering 2012-2016
Georgia Institute of Technology, PhD in Robotics 2016-Present
Work
Bajcsy Lab, Research Assistant, 08/2013-05/2016
Asylum Research, Application Science Intern, Summer 2012-2015
Publications
Mathew, E. Mica, W. Meinhold, J. Loeza, M. Tomizuka, R.Bajcsy, "Introduction and Initial Exploration of an Active/Passive Exoskeleton Framework for Portable Assistance" in 2015 IEEE/RSJ International Conference on Intelligent Robots and Systems (IROS).
Mathew, E. Mica, W. Meinhold, J. Loeza, M. Tomizuka, R.Bajcsy,"Initial Investigation into the Effect of an Active/Passive Exoskeleton on Hammer Curl Performance in Healthy Subjects, " in 2015 IEEE Engineering in Medicine and Biology Society Conference (EMBC).
"Semi-Passive Assistive Devices for the Upper Limbs", R. Bajcsy, M. Tomizuka, R.P. Matthew, E. Mica, W. Meinhold, and J.A. Loeza; U.S. Provisional Patent 62/117,534.